Movie Screens & Audio Equipment

Jump-A-Roo's has such a wide selection to offer you! We go way past the common bounce houses, waterslides, and obstacle course rentals. We now also offer movie screen rentals! These are perfect for family movie nights, graduation parties, video game maniacs, or even that talented karaoke crew.

What's that? You couldn't hear me? Seems like you might be needing an audio system rental as well for this event.
If you are wanting to make this awesome inflatable movie screen or karaoke night a little louder, be sure to check out our speaker rental that comes with a microphone. Many people seem to add tables and chairs to this type of rental. They're also a very common rental for Churches, Schools, and Charity Events.
Movie Screen With Projector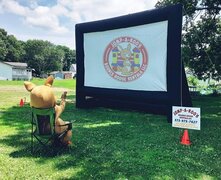 Speakers W/ Microphone