Cash Cube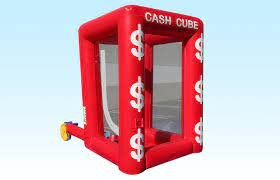 Description
Jump-A-Roo's has just added more fun to the party with this Cash Cube! Watch as participants attempt to try to catch money, coupons, or whatever you decide. You will have a good laugh as you watch them hustle to catch whatever is blowing around in the Money Cube. This is a great choice for any type of event, that will be sure to add more action-packed fun to your party!
The Cash Cube is a powerful marketing tool that can attract attention and create excitement at any event or promotion. It is filled with paper money, play money, coupons, or other promotional items such as winning tickets for drawings. The cube has a blower that circulates the items inside, creating a whirlwind effect that participants can enter and grab as much as they can within a specified time limit.

The Cash Cube is a great way to engage with kids, or your audience and create a memorable experience. This creates a fun and interactive experience for your customers, the Cash Cube is a unique rental. It's easy to set up and operate and can be used indoors or outdoors.