Dunk Tank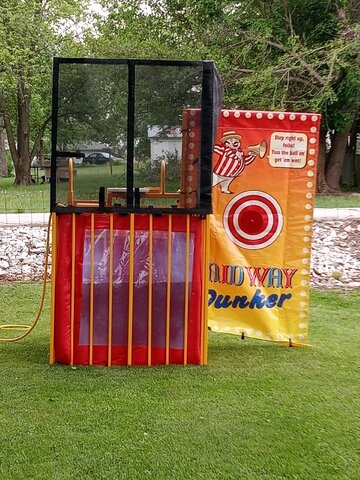 Description
Ready, Set, Aim... Dunk Tanks are the perfect way to cool off, and have some family fun this Summer! These dunk tanks are great for many events such as Birthdays, Family Reunions, School events, Church events, or even for fundraising events.



Dunk Tanks are an exciting addition to any outdoor event or party. It is a classic game where participants take turns throwing a ball at a target, with the goal of hitting it and causing the person sitting on the platform above to fall into a tank of water below. The Dunk Tank is perfect for school carnivals, charity fundraisers, company picnics, and backyard parties. It is a great way to add some fun and excitement to your event, and it is sure to be a hit with guests of all ages.

The Dunk Tank is easy to set up and operate, and it comes with all the necessary equipment, including the tank, platform, and balls. So, if you want to make your next event a splash, be sure to include the Dunk Tank in your plans!