Giant Jenga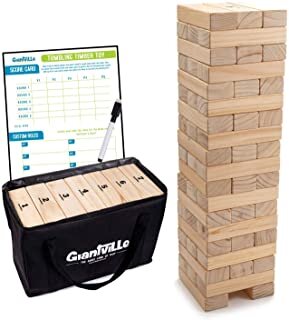 Description
Oh My! Your favorite childhood game is now supersized.
The Jumbo wooden blocks are great entertainment for all ages. This game is full of suspense as you watch the giant tower sway back and forth as you try to decide which block to move next. Careful, Steady, Pheww!
The blocks are numbered with a list of rules to make the game more interesting. Also, you can change it up by creating your own rules to maximize the fun for any age group. This Classic game can be used indoors or outdoors. Making it an ideal game for Barbeques, Birthday Parties, Picnics, camping, or just simple family fun.