20X20 High Peak - Seats 40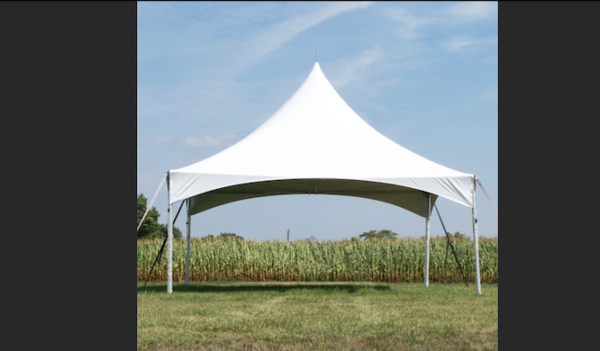 Description
The price listed is without any sidewalls. Please call to add sidewalls or lighting if needed. If this tent is set up on a surface such as concrete, making it unable to stake into the ground, you will need to have weights added to your order. Please call to discuss options.
Introducing our 20x20 High Peak Tent, the perfect solution for any outdoor event or gathering. Designed with both style and functionality in mind, this tent combines elegance and durability to create a truly impressive space.
Constructed with high-quality materials, this tent is built to withstand various weather conditions, ensuring that your event will go on without a hitch. The high-peak design not only adds a touch of sophistication but also allows for efficient water runoff, keeping the interior dry and comfortable.
With a spacious 400 square feet of interior space, this tent can comfortably accommodate a large number of guests. Whether you're hosting a wedding reception, corporate event, or backyard party, this tent provides ample room for seating, dining, and entertainment.
Customization is key, which is why our 20x20 High Peak Tent offers a variety of optional accessories to enhance your event experience. From sidewalls for added privacy and protection to lighting and ample room for flooring options, you can create a truly personalized and unforgettable setting.
Our 20x20 High Peak Tent elevates your outdoor events to the next level. With its exceptional quality, versatility, and aesthetic appeal, this tent is sure to impress your guests and create memories that will last a lifetime.
Seating Capacity:
33 guests for a sit-down dinner
40 guests for a buffet-style dinner
50 guests for a cathedral (row) seating
80 guests for a cocktail party