PowerWasher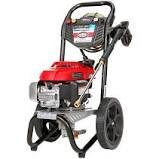 Description
We know how much of a mess events can be sometimes, That's why we offer these. Great for cleaning up the aftermath, or maybe just your house siding or driveway? Whatever the reason, the Powerwasher is here if you need it.
The PowerWasher is a high-quality and powerful cleaning tool that is perfect for any outdoor cleaning task. With its advanced technology and durable construction, it can easily blast away dirt, grime, and other tough stains from any surface.
Equipped with a high-pressure spray nozzle, the PowerWasher can easily remove dirt and debris from driveways, sidewalks, decks, and even cars. Its compact and lightweight design makes it easy to maneuver and use, while the powerful motor ensures that you get the job done quickly and efficiently.
With its easy-to-use controls and adjustable spray settings, the PowerWasher is perfect for both professional and home use. Whether you need to clean up after a messy outdoor project or just want to keep your property looking its best, the PowerWasher is the perfect tool for the job. So why wait? Order your PowerWasher today and start cleaning like a pro!