Sno Cone Flavors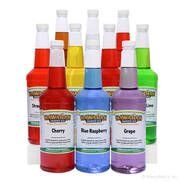 Description
Can't get enough? With a wide variety of flavors to choose from: Cherry, Grape, Bubble Gum, Banana, Blue Raspberry, etc there is something for everyone.
Want a different flavor not listed above no problem we can order additional flavors in advance of your party or event if needed, please give us a call with your request to discuss the choices at least 2 weeks in advance!
We can also special order colorless flavors in the event your child has a Dye Allergy, which also is great if you don't want to worry about colored faces or stains.
At Jump-A-Roo's Bounce House, we only want you to have the best experience possible, that's why we personally picked Hawaiian Brand snow cone flavoring as our syrup of choice. We are certain you will be satisfied, as we are always looking for customer feedback in making our selections, and you all have spoken this is the one by far!
However, if you require a different brand just shoot us a message in advance, and we can order it for you. When deciding how many additional syrups you need, please remember that for a 4oz snow cone, it's approximately 3 oz of syrup or (2 squirts) per cone.
Whether you're hosting a backyard barbecue, a birthday party, or a fundraising event, our Sno Cone Flavors are sure to be a hit. Order yours today and start creating delicious Sno Cone creations that everyone will love!