Tug Of War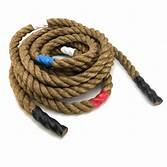 Description
Looking for games to add to your party?
How about a good old-fashioned game of tug of war? This is a sport that puts two teams face to face against each other in a test of strength and teamwork: teams will pull on opposite ends of a rope, with the goal being to bring the rope a certain distance in one direction against the force of the opposing team's pull.
Making it a good game for all ages to battle out in a friendly head-to-head competition. Go ahead divide up and play in teams, and see who will be the ultimate champions! Both adults and kids will enjoy themselves with this competitive game learning team-building skills and strengths.