White Chairs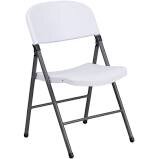 Setup Area: 2x2
Actual Size: 1x1
Age Group: all
Description
These white folding chairs are strong and durable and can be used both indoors and outside, making them a versatile option for a range of different events and activities. They can be used for anything from indoor events and auditoriums to outdoor concerts, parties, weddings, and more.
Each chair has a wide seat and a taller back that is comfortable. Each chair measures 34" tall.
These chairs are made of tough Resin plastic with steel frames designed for commercial use.